Pauline Hylton
June 14, 1942 - October 22, 2004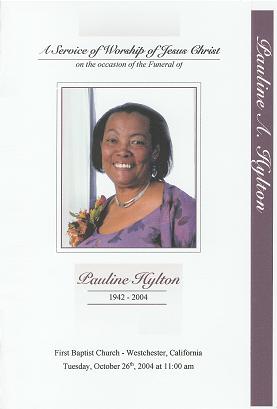 Pauline was born on June 14, 1942 in Kingston, Jamaica, the third of four children of Cecil Augustus and Cislyn. She grew up in Kingston where she lived with her father, step-mother Conceta, and sister Sonia and brothers Ransford, Lacelles, Noel, Rupert, Huntley, and Ray (deceased). She is survived by her son Alen and several siblings and half-siblings.

She attended Calabar Elementary School and went on to Excelsior College where she graduated with Advanced Levels, Senior Cambridge Examination Board. Upon leaving school she worked as a clerk in a law firm. After graduating from Durham College, she eventually became a legal secretary.

Pauline left Jamaica in 1967 for New York where she later married Owen Hylton. They were married from 1970 to 1980. After leaving New York to settle in California she gave birth to the light of her life, a son, Alen Sean Hylton in 1977, in Palo Alto, California.

After living in both Northern and Southern California for several years with her son, she finally settled in Los Angeles. While she raised Alen she continued to work as a legal secretary and also worked as a secretary at the California State University Northridge. In addition, she taught childrenís Sunday school class at First Baptist Church of Arleta, California. During this period, Pauline faced several trials of life that she faced with determination, strength, and hope, never losing faith that God was ever present with her. The joy of the Lord was her strength.

In 1992, she joined First Baptist Church-Westchester where she attended faithfully until 1996. After a brief absence she returned in 2001 becoming an active member involved in ministry. She was a regular participant in worship and in early morning and evening prayer meetings. She studied Godís Word on her own and in Sunday school class. Filled with the Holy Spirit, she answered the call to join the choir in 2002 where she faithfully gave her voice to God in praise. She also loved the evangelistic work of the church in the world and shared her faith with those whom she loved.

Most recently, she struggled bravely with cancer for almost a year. Throughout her struggle and even up until the day she died she had not lost her sense of humor and her ability to share laughter with those around her. And never did she lose faith that someday she would be healed by Christís power. She died peacefully; loving others and being loved until Jesus called her home on October 22, 2004.

She is now and will forever be completely healed.